FOX News Interview
Elizabeth Johnston was interviewed on February 16, 2019 on the Fox News channel regarding her new book 'Not on My Watch.' She's out to win the fight for family, faith and freedom. In a world where religious liberty is under attack, author Elizabeth Johnston shares how she fights back in her latest work 'Not on My Watch.' Watch as she courageously defends the timeless truths of God's Word and inspires and encourages other Christians to unite in winning this war for our children, our morals, our freedom, and our culture.
The Latest Content
A man known as the "Human Ken Doll" has now decided he has always been a Barbie deep, deep down, because of course he has. 
On Friday, POTUS Donald Trump weighed in on the raging battle over the Second Amendment that's taking place in the Commonwealth of Virginia this week, pointing out that this is just the latest example of the Democrats' undying commitment to infringing Americans' right to keep and bear arms. 
This is infuriating beyond words. It's one thing for transgender felons to be housed in a facility that matches their imagined gender—and we've frequently reported on how those situations end up. It's another thing entirely to release a repeat child molester into the public based purely on his "identity" and hormone levels.  Even if, for the sake of argument, "Josie" was legitimately a woman, women are just as capable of molesting children as men! It may not happen quite so frequently, but wouldn't you think that Smith's history of molesting children might increase "her" chances?!
Whether or not you vaccinate is not the issue. This is a matter of each individual and family maintaining the right to bodily autonomy and the exercise of informed consent alongside their healthcare providers. Legislators are not doctors and they do not own our children—why should they be entitled to make decisions for them as such?
Since the widespread acceptance  of "gender theory" has exploded in American society, real, biological  women have second-class citizens in favor of trans "women." Sports is one of the primary arenas in which this is taking place,  but it seems that 2020 is going to usher in new hope for real women who simply want to compete on an even playing field.
Despite this recommendation of medical experts not to subject underage children to this dangerous medical approach to a serious mental illness, the Democrats are hell-bent on ensuring the transgender ideology flourishes in the US, claiming as many vulnerable children as possible. These Republican lawmakers are on the right track with the start of much needed and necessary legislative measures to protect children from this kind of medical abuse, especially when their own parents are eager to offer them up on the altar of sexual progressivism.
Order my new book
News headlines point to a world that has gone stark-raving mad. Right is wrong, and wrong is right. Religious liberty is under attack. Gender identity and fluidity is not only accepted but encouraged. Same-sex marriage is embraced by many churches. Deviant sexual practices are taught in schools. Feminists march for freedom—except when it relates to the 60 million babies aborted since Roe v. Wade. "No more!" cries Elizabeth Johnston aka the Activist Mommy, social media sensation with over 70 million video views. Johnston courageously defends the timeless truths of God's Word and inspires and encourages other Christians to unite in winning this war for our children, our morals, our freedom, and our culture.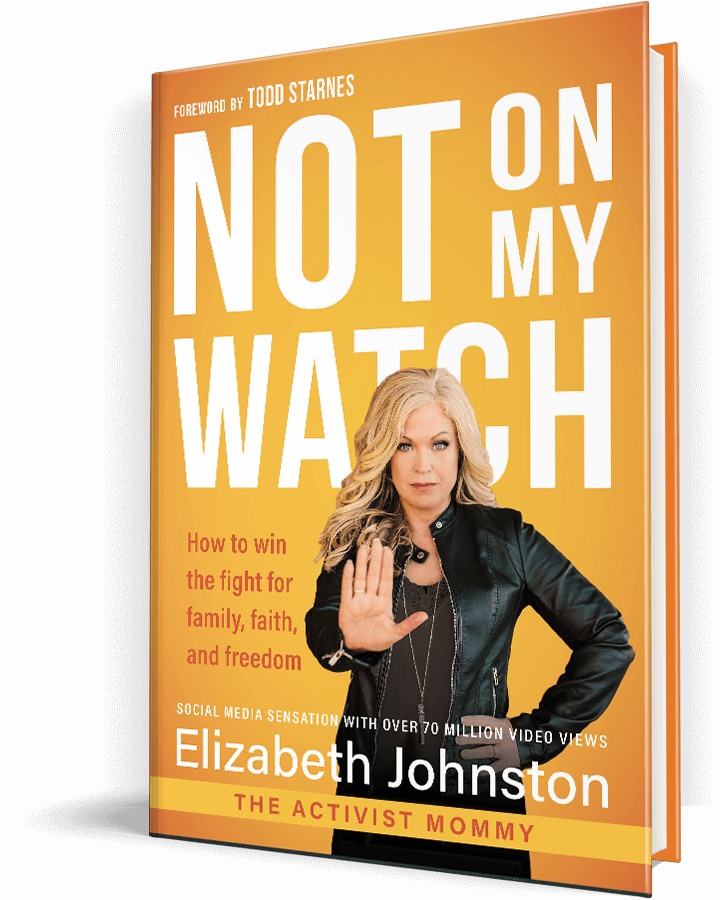 Meet Elizabeth, the "Activist Mommy"
Elizabeth is a bestselling author, speaker, and activist who educates and inspires the public on the burning social and moral issues of the day that are important to families and patriots. She and her husband Patrick, who is a medical doctor, author, and movie producer, have been pro-life ministry leaders for many years and home educate their 10 beautiful children. Elizabeth daily triggers the left by confronting the lies of abortion, feminism, Islam, and the homosexual agenda with wit and snark like only she can, and she regularly posts viral commentary videos which have netted over 70 million views. Elizabeth has been featured on many major media outlets, such as Fox & Friends, The New York Times, The Blaze, and Christian Broadcasting Network, and has become a thought leader on topics of importance to families.