FOX News Interview
Elizabeth Johnston was interviewed on February 16, 2019 on the Fox News channel regarding her new book 'Not on My Watch.' She's out to win the fight for family, faith and freedom. In a world where religious liberty is under attack, author Elizabeth Johnston shares how she fights back in her latest work 'Not on My Watch.' Watch as she courageously defends the timeless truths of God's Word and inspires and encourages other Christians to unite in winning this war for our children, our morals, our freedom, and our culture.
The Latest Content
Krom should be a hero to us all. In an era when Christians are tempted daily to downplay their convictions as "personal choices," she was willing to repeatedly perform acts and take stands that put her job at risk and clearly violated the humanist-influenced status quo of the public school system. 
Folks, this wickedness must be met head-on! Not only must we pray for the Lord to work in these atrocities, we must stand up for the unborn who will be murdered and for mothers whose bodies will be so violently invaded at the mere tap of a gavel.
He explained his addiction "began as a 10-year-old boy, when he was taken to a drag queen show at a cabaret club while on holiday with his family." "Today when I see and hear of books being read to children in schools such as '10,000 Dresses,'" he said, "I see the same influence that led me to this harmful addiction." He said more "must be done to protect our children, not to encourage them to pursue the same destructive path that I have had."
If nothing else, the demonstration was hideous, obscene, and incredibly inappropriate—but what else do we expect from radical feminists?
"...We have the footage itself and the footage speaks for itself," Durbin continued. "If any of the pro-life ministers out here had pulled a weapon on the abortionist last week, I don't think it would be a matter of maybe a couple of hours before action was taken to put one of us in handcuffs, rightly so."
It never ceases to amaze that Planned Parenthood executives have been caught on video breaking several federal laws, and yet the journalist who exposed them is the one on trial.  Please continue to pray for David Daleiden and his associates, and plead that the Lord would allow justice to prevail in this case!
Order my new book
News headlines point to a world that has gone stark-raving mad. Right is wrong, and wrong is right. Religious liberty is under attack. Gender identity and fluidity is not only accepted but encouraged. Same-sex marriage is embraced by many churches. Deviant sexual practices are taught in schools. Feminists march for freedom—except when it relates to the 60 million babies aborted since Roe v. Wade. "No more!" cries Elizabeth Johnston aka the Activist Mommy, social media sensation with over 70 million video views. Johnston courageously defends the timeless truths of God's Word and inspires and encourages other Christians to unite in winning this war for our children, our morals, our freedom, and our culture.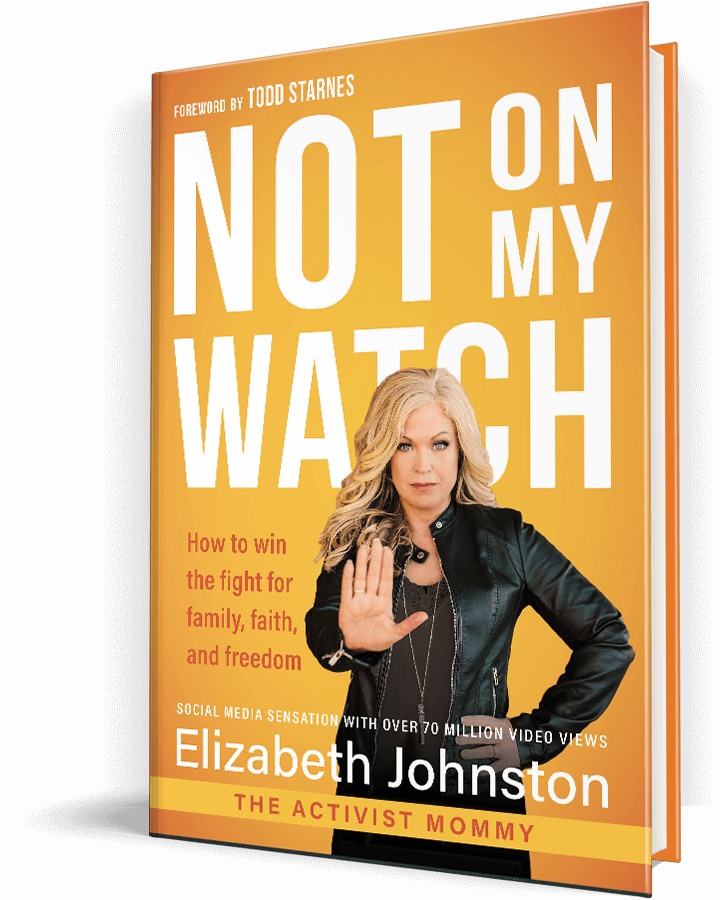 Meet Elizabeth, the "Activist Mommy"
Elizabeth is a bestselling author, speaker, and activist who educates and inspires the public on the burning social and moral issues of the day that are important to families and patriots. She and her husband Patrick, who is a medical doctor, author, and movie producer, have been pro-life ministry leaders for many years and home educate their 10 beautiful children. Elizabeth daily triggers the left by confronting the lies of abortion, feminism, Islam, and the homosexual agenda with wit and snark like only she can, and she regularly posts viral commentary videos which have netted over 70 million views. Elizabeth has been featured on many major media outlets, such as Fox & Friends, The New York Times, The Blaze, and Christian Broadcasting Network, and has become a thought leader on topics of importance to families.