FOX News Interview
Elizabeth Johnston was interviewed on February 16, 2019 on the Fox News channel regarding her new book 'Not on My Watch.' She's out to win the fight for family, faith and freedom. In a world where religious liberty is under attack, author Elizabeth Johnston shares how she fights back in her latest work 'Not on My Watch.' Watch as she courageously defends the timeless truths of God's Word and inspires and encourages other Christians to unite in winning this war for our children, our morals, our freedom, and our culture.
The Latest Content
Parents in the United States are afforded the right to parent as they see fit. We have the right to make medical decisions for our children, even if those decisions may not align with what our doctor thinks or recommends. However, there are two forces at work here creating a dangerous landscape for our parental rights: an inept, corrupt, power-hungry government agency, and the left's push to raise children as community property rather than part of loving family units. 
We seem to be literally fighting daily for the innocence of our children and their protection in public spaces from blatant sexual indoctrination and grooming. Society has devolved rapidly into a cesspool of sexual debauchery that would make Sodom and Gomorrah look like a beacon of light. We have to wake up and see the LGBT movement for what it is: the sexual grooming of children. 
Say it with me now: "gender affirmation" is not health care. Gender dysphoria is a mental illness. Allowing someone to fester away in said mental illness is not care, it is cruelty. Since when is plastic surgery "medically necessary"? Is a "trans woman" going to die if he doesn't go out and get castrated as soon as possible? What a gross redefinition of the most basic of medical terms. 
When you allow your children to use apps like Snapchat, which is notorious for allowing child predators all but unrestricted access to minor users, you open the door for this twisted ideology to come right into your home. Would you give your children over to strangers who are just itching to induct them into the culture of death? If not, then you must not allow your children to use Snapchat.
"The First Amendment protects a student's right to hold his own views, and to respectfully share them, where the issues of transgenderism, cross-sex hormones, and "having male private parts removed" are raised by others in conversation during school time where students may talk, and are otherwise permissible subjects of discussion."
Pro-abortion advocates have a lexicon all their own in order to sanitize, normalize, and celebrate the gruesome practice of poisoning, dismembering, or using any other vicious method to kill unborn children. This has led to entire generations of people being pitifully unaware of what an abortion procedure actually entails.  And sadly, by employing language as a weapon, the left is gaining massive ground.
Order my new book
News headlines point to a world that has gone stark-raving mad. Right is wrong, and wrong is right. Religious liberty is under attack. Gender identity and fluidity is not only accepted but encouraged. Same-sex marriage is embraced by many churches. Deviant sexual practices are taught in schools. Feminists march for freedom—except when it relates to the 60 million babies aborted since Roe v. Wade. "No more!" cries Elizabeth Johnston aka the Activist Mommy, social media sensation with over 70 million video views. Johnston courageously defends the timeless truths of God's Word and inspires and encourages other Christians to unite in winning this war for our children, our morals, our freedom, and our culture.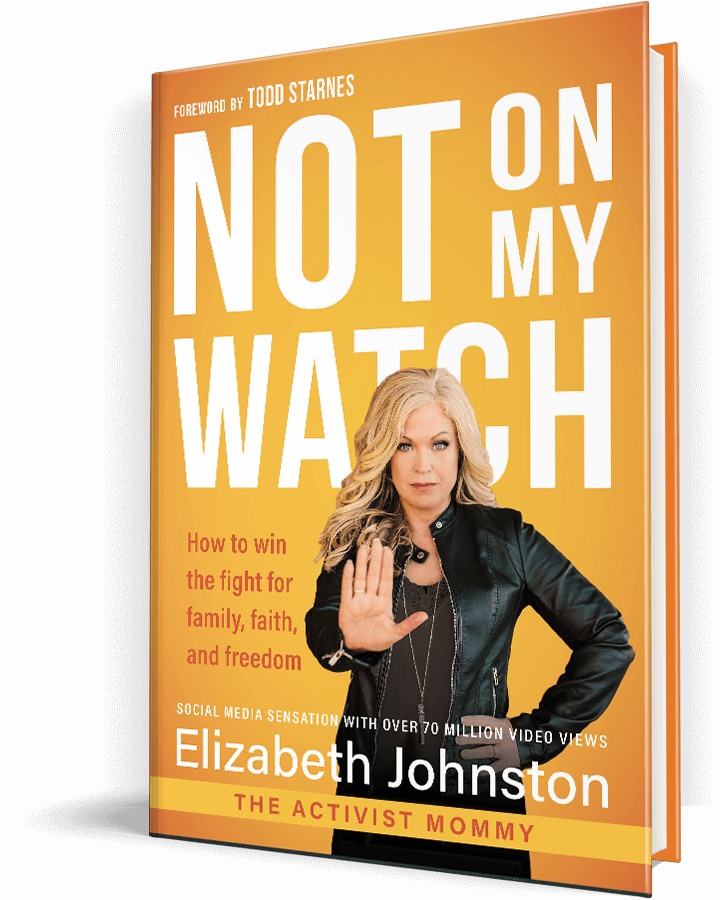 Meet Elizabeth, the "Activist Mommy"
Elizabeth is a bestselling author, speaker, and activist who educates and inspires the public on the burning social and moral issues of the day that are important to families and patriots. She and her husband Patrick, who is a medical doctor, author, and movie producer, have been pro-life ministry leaders for many years and home educate their 10 beautiful children. Elizabeth daily triggers the left by confronting the lies of abortion, feminism, Islam, and the homosexual agenda with wit and snark like only she can, and she regularly posts viral commentary videos which have netted over 70 million views. Elizabeth has been featured on many major media outlets, such as Fox & Friends, The New York Times, The Blaze, and Christian Broadcasting Network, and has become a thought leader on topics of importance to families.