FOX News Interview
Elizabeth Johnston was interviewed on February 16, 2019 on the Fox News channel regarding her new book 'Not on My Watch.' She's out to win the fight for family, faith and freedom. In a world where religious liberty is under attack, author Elizabeth Johnston shares how she fights back in her latest work 'Not on My Watch.' Watch as she courageously defends the timeless truths of God's Word and inspires and encourages other Christians to unite in winning this war for our children, our morals, our freedom, and our culture.
The Latest Content
Turn to God and don't be ashamed of the gospel of Jesus Christ. Urge your kids to pray around the Pole on September 25 , and to stand up visibly for Christian values at school. Consider starting a "Good News" club, with help from the Child Evangelism Fellowship. The light of Jesus will dispel this darkness. Let's get to work.
The worksheet, created by Trans Student Education Resources, invites students to explore and itemize all the different facets of their gender, including their gender identity, gender expression, "assigned sex" (because the sex indicated by your genitalia when you first came into the world is only a tiny fraction of your gender makeup, of course), and which people you feel sexually and emotionally attracted to.
How can anyone defend this kind of filth and vileness? What parent thinks the behavior in this movie is appropriate for children in this age range? Sixth graders, by the way, are usually 11- and 12-year-olds. The movie is rated R, so adults are the only people permitted to see it. There are adults who would find this kind of "humor" entertaining? This is perversion.
Children attending public schools in America need our prayers. Prayers for protection and also wisdom and discernment. The public school system is corrupt. If you can, pull your kids out now.
The organizers of the show, however, are defending the event. "We sought them out because they are at the very highest level of disability drag," said event organizer Jill Vyn of DisArt, a Grand Rapids organization that connects art and people with disabilities. "Drag has never only been about sexuality," DisArt co-founder Christopher Smit said. "Drag is about gender performance, drag is about expression. Drag is also about ridding the culture of really damaging stereotypes."
On the eve of his Jan. 1 inauguration, Bolsonaro tweeted his intentions. "One of the goals to get Brazil out of the worst positions in international education rankings is to combat the Marxist rubbish that has spread in educational institutions." Education Minister Ricardo Velez Rodriguez vowed in his inaugural speech to end the "aggressive promotion of the gender ideology."
Order my new book
News headlines point to a world that has gone stark-raving mad. Right is wrong, and wrong is right. Religious liberty is under attack. Gender identity and fluidity is not only accepted but encouraged. Same-sex marriage is embraced by many churches. Deviant sexual practices are taught in schools. Feminists march for freedom—except when it relates to the 60 million babies aborted since Roe v. Wade. "No more!" cries Elizabeth Johnston aka the Activist Mommy, social media sensation with over 70 million video views. Johnston courageously defends the timeless truths of God's Word and inspires and encourages other Christians to unite in winning this war for our children, our morals, our freedom, and our culture.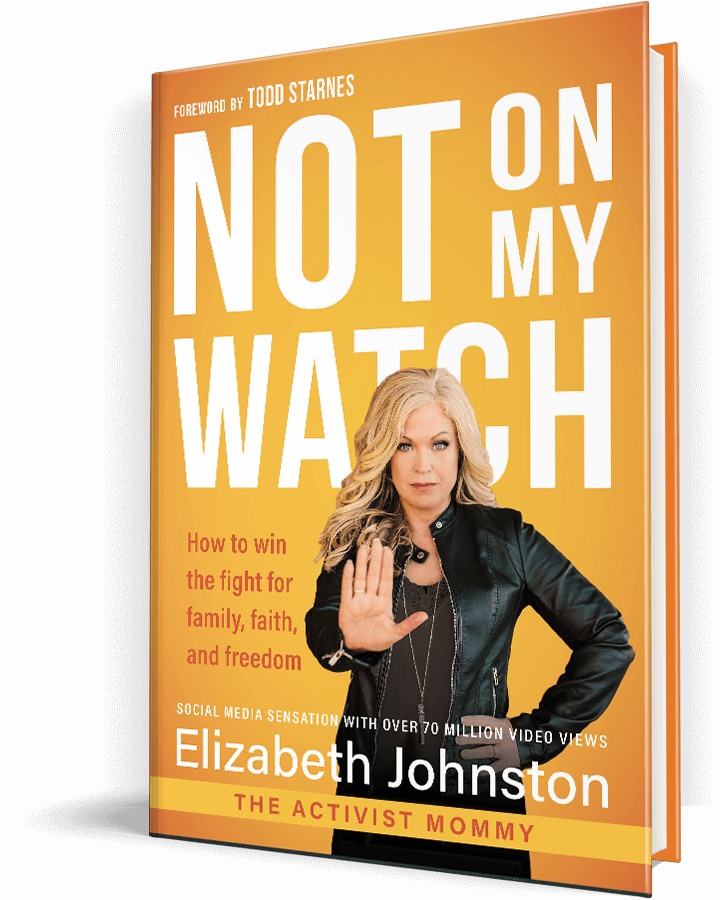 Meet Elizabeth, the "Activist Mommy"
Elizabeth is a bestselling author, speaker, and activist who educates and inspires the public on the burning social and moral issues of the day that are important to families and patriots. She and her husband Patrick, who is a medical doctor, author, and movie producer, have been pro-life ministry leaders for many years and home educate their 10 beautiful children. Elizabeth daily triggers the left by confronting the lies of abortion, feminism, Islam, and the homosexual agenda with wit and snark like only she can, and she regularly posts viral commentary videos which have netted over 70 million views. Elizabeth has been featured on many major media outlets, such as Fox & Friends, The New York Times, The Blaze, and Christian Broadcasting Network, and has become a thought leader on topics of importance to families.