FOX News Interview
Elizabeth Johnston was interviewed on February 16, 2019 on the Fox News channel regarding her new book 'Not on My Watch.' She's out to win the fight for family, faith and freedom. In a world where religious liberty is under attack, author Elizabeth Johnston shares how she fights back in her latest work 'Not on My Watch.' Watch as she courageously defends the timeless truths of God's Word and inspires and encourages other Christians to unite in winning this war for our children, our morals, our freedom, and our culture.
The Latest Content
"If a guy like Donald Trump keeps trying to use religion to somehow recruit Christianity into the GOP, I will be standing there not afraid to talk about a different way to answer the call of faith and insist that God does not belong to a political party."
"You see more and more activists who are opting to do other things: Donating, volunteering, running for their local school board or city council." The pink-hatters aren't disappearing. They're gaining positions in local government, schools, and certainly libraries. This is where they've taken the battle, and this is where they can truly do the most damage to society.
One thing is for certain: our words matter. If we are not compelled by our love of God to treat our fellow humans as bearers of His image, Paul says in 1 Corinthians 13, we are as useless as a "clanging cymbal."  We must oppose those who seek to wreak havoc on our society, but we must speak the truth to them in love, remembering that not one of them is too far for God's mighty hand to reach.
These bills, introduced in the House and Senate, respectively, seek to "protect" transgender students by decimating the issue of compelled use of preferred pronouns, bathroom and locker room use, sports team participation, and alteration of records to reflect "gender identity" in one fell swoop.
"Because some believe a fetus is an intact human being, and has more right to live than a woman. If you believe that, if you believe the rights of the fetus are greater than that of a female human being, there is no way to argue." You've got to be kidding me.
By putting John through the university's kangaroo court rather than allowing the legal system to do its job, these people are committing one of the very atrocities the #MeToo movement claims to fight—except they sided with the supposed "victim," in which case it's apparently acceptable.
Order my new book
News headlines point to a world that has gone stark-raving mad. Right is wrong, and wrong is right. Religious liberty is under attack. Gender identity and fluidity is not only accepted but encouraged. Same-sex marriage is embraced by many churches. Deviant sexual practices are taught in schools. Feminists march for freedom—except when it relates to the 60 million babies aborted since Roe v. Wade. "No more!" cries Elizabeth Johnston aka the Activist Mommy, social media sensation with over 70 million video views. Johnston courageously defends the timeless truths of God's Word and inspires and encourages other Christians to unite in winning this war for our children, our morals, our freedom, and our culture.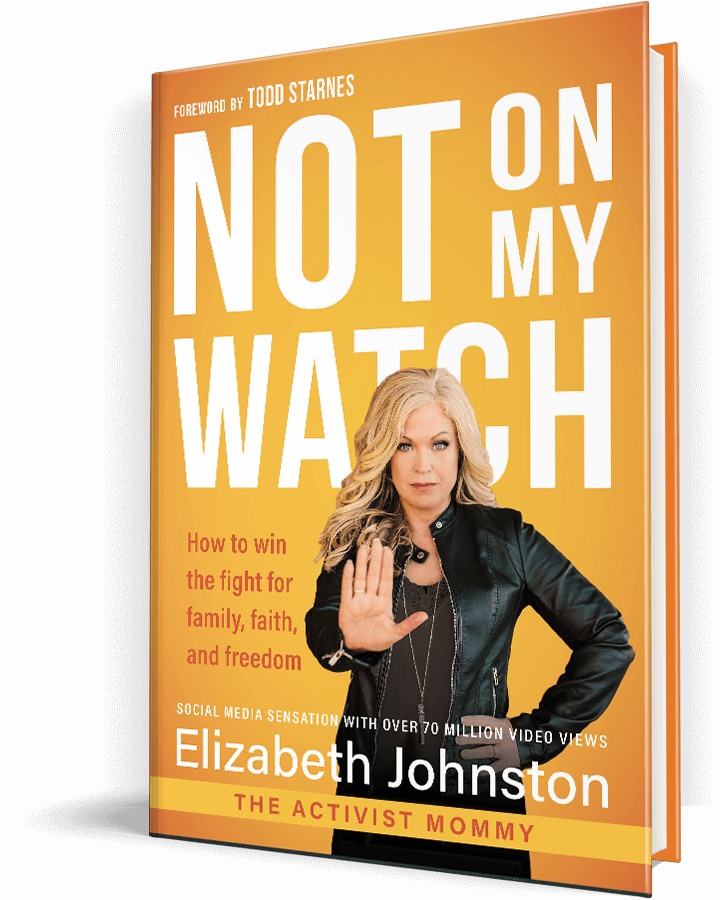 Meet Elizabeth, the "Activist Mommy"
Elizabeth is a bestselling author, speaker, and activist who educates and inspires the public on the burning social and moral issues of the day that are important to families and patriots. She and her husband Patrick, who is a medical doctor, author, and movie producer, have been pro-life ministry leaders for many years and home educate their 10 beautiful children. Elizabeth daily triggers the left by confronting the lies of abortion, feminism, Islam, and the homosexual agenda with wit and snark like only she can, and she regularly posts viral commentary videos which have netted over 70 million views. Elizabeth has been featured on many major media outlets, such as Fox & Friends, The New York Times, The Blaze, and Christian Broadcasting Network, and has become a thought leader on topics of importance to families.