FOX News Interview
Elizabeth Johnston was interviewed on February 16, 2019 on the Fox News channel regarding her new book 'Not on My Watch.' She's out to win the fight for family, faith and freedom. In a world where religious liberty is under attack, author Elizabeth Johnston shares how she fights back in her latest work 'Not on My Watch.' Watch as she courageously defends the timeless truths of God's Word and inspires and encourages other Christians to unite in winning this war for our children, our morals, our freedom, and our culture.
The Latest Content
It seems these "churches" would rather tear out such pages of God's Word in order to posture themselves as "accepting" in today's culture. The true Gospel message, however, continues in the very next verse after Paul's sharp words against those who will not inherit the Kingdom: "And such were some of you. But you were washed, you were sanctified, you were justified in the name of the Lord Jesus Christ and by the Spirit of our God."
When civic business must be reviewed and approved by the LGBT minority and any dissenting speech is punishable as "hate," we have officially become a totalitarian society.
"And then the next day I showed up at [the Women's March]; I spoke and I wore my pink Planned Parenthood scarf. Now that's two, so here's my plan for number three: I'm gonna be wearing that scarf when I'm sworn as president of the United States," she proudly declared to a roomful of applause.
Goldberg pressed on, complaining that the channel plays nonstop when she and her "wife" visit family on Christmas, but they "are not reflected on anything [Hallmark is] doing. It would be really cool to broaden out and have our nieces see a version of us on TV," Goldberg added, "or see a version of anything else besides Christmas with, you know, white leads."
After beginning hormone therapy and having a double mastectomy at age 20, Kira realized these things were not contributing to any kind of self-acceptance. "How can I possibly be loving myself if I am sacrificing my general health in order to change my whole being?" she asked.
Feminists don't seem to be too concerned with the horde of men who pretend to be women. It's really quite remarkable and just goes to show how self-loathing the modern-day feminist movement truly is.
Order my new book
News headlines point to a world that has gone stark-raving mad. Right is wrong, and wrong is right. Religious liberty is under attack. Gender identity and fluidity is not only accepted but encouraged. Same-sex marriage is embraced by many churches. Deviant sexual practices are taught in schools. Feminists march for freedom—except when it relates to the 60 million babies aborted since Roe v. Wade. "No more!" cries Elizabeth Johnston aka the Activist Mommy, social media sensation with over 70 million video views. Johnston courageously defends the timeless truths of God's Word and inspires and encourages other Christians to unite in winning this war for our children, our morals, our freedom, and our culture.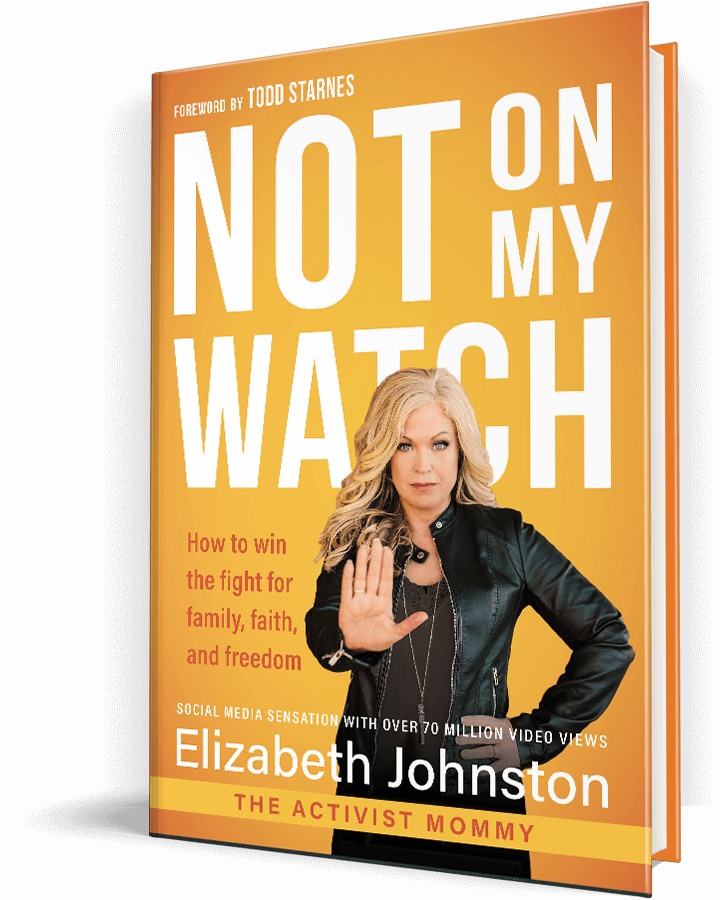 Meet Elizabeth, the "Activist Mommy"
Elizabeth is a bestselling author, speaker, and activist who educates and inspires the public on the burning social and moral issues of the day that are important to families and patriots. She and her husband Patrick, who is a medical doctor, author, and movie producer, have been pro-life ministry leaders for many years and home educate their 10 beautiful children. Elizabeth daily triggers the left by confronting the lies of abortion, feminism, Islam, and the homosexual agenda with wit and snark like only she can, and she regularly posts viral commentary videos which have netted over 70 million views. Elizabeth has been featured on many major media outlets, such as Fox & Friends, The New York Times, The Blaze, and Christian Broadcasting Network, and has become a thought leader on topics of importance to families.